Happy St. Patrick's Day! Go Bearcats!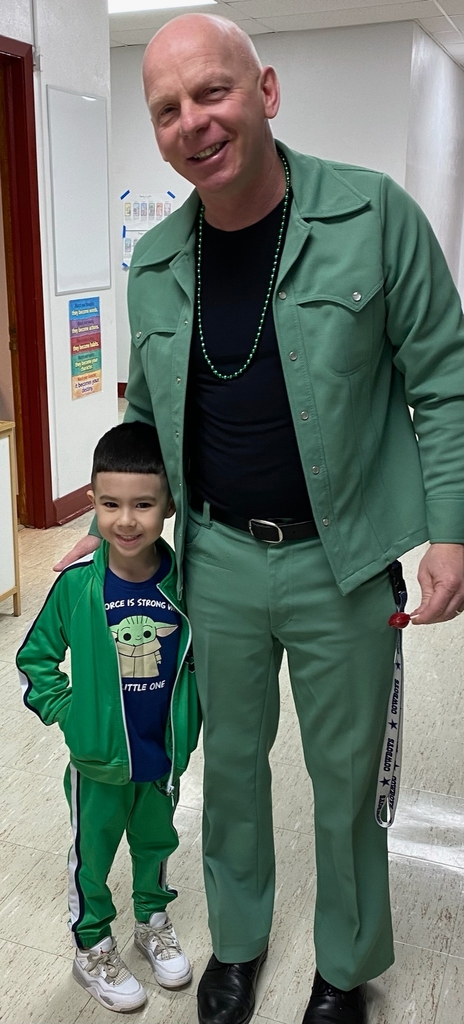 The Marion School will be hosting Drivers Education this summer. The class portion of the class will be on June 7th, 8th, and 9th at the School from 8:00 am- 6:00 pm. The cost this year is $300 with a down payment of $150. For more information please see the attached letter. If your student would like to register for Drivers Education please have them stop in Amanda's office for a form, you may also print the letter off and return to Amanda. Thank you. Drivers Education letter
https://5il.co/179m0
State B Basketball fans, come cheer on the boys this weekend!!! But there are a few rules that are special to State Tournaments: • All fans will be expected to remain off the playing area until after the awarding of medals and trophies. Failure to remain off the playing floor will result in the offending team not being recognized by the public address announcer. Medals and trophies will be awarded to school personnel following the awards ceremony. Fans will be allowed on the playing area following the presentation of all awards. , • Pennants, foam fingers, foam noodles, homer hankies, rooter poms, etc. are permitted. • Temporary banners and signs of all kinds are prohibited except those displayed by the SDHSAA, the Association's corporate partners, the tournament band, the arena, the tournament manager, and licensed radio and television stations. Cheer cards displayed by cheerleaders are permissible. • All types of noisemakers are prohibited. This includes plastic hand shakers, thunder sticks, as well as all sorts of projectiles. • Paper confetti and silly string are prohibited because they are difficult to clean up, in addition to being a fire hazard. • Balloons are prohibited. • Megaphones are prohibited except when used by a cheerleader. • Musical instruments are prohibited except when the band is performing. • Stereo tape decks and related radio equipment are prohibited during official tournament play. • Human tunnels created by student and/or adult fans are prohibited. • Laser pointers are prohibited. If used, the laser pointers shall be confiscated. • Students are asked not to stand on the seats. Students may stand in the foot wells in the student section. • Jumping up and down in unison is prohibited. • Face masks are prohibited. NOTE: Masks to prevent infectious disease are allowed.

Fourth Grade students attended the Water Festival at the University of Sioux Falls on March 9th. Students had a hands-on experience with many water experiments and had a fun day learning all about water.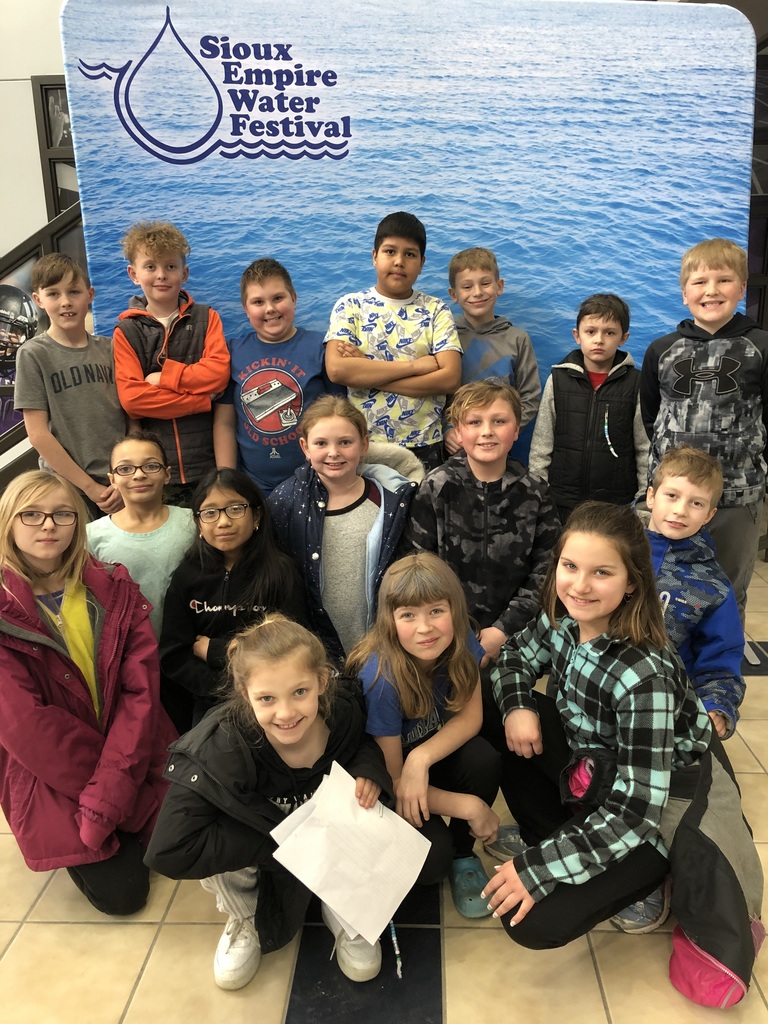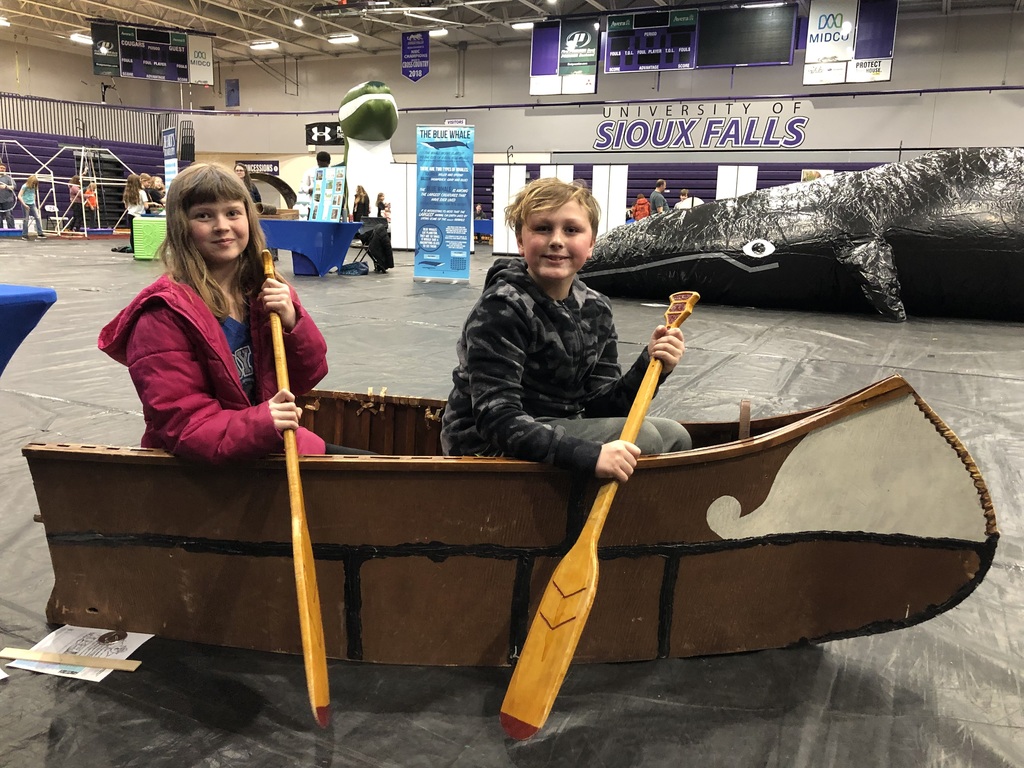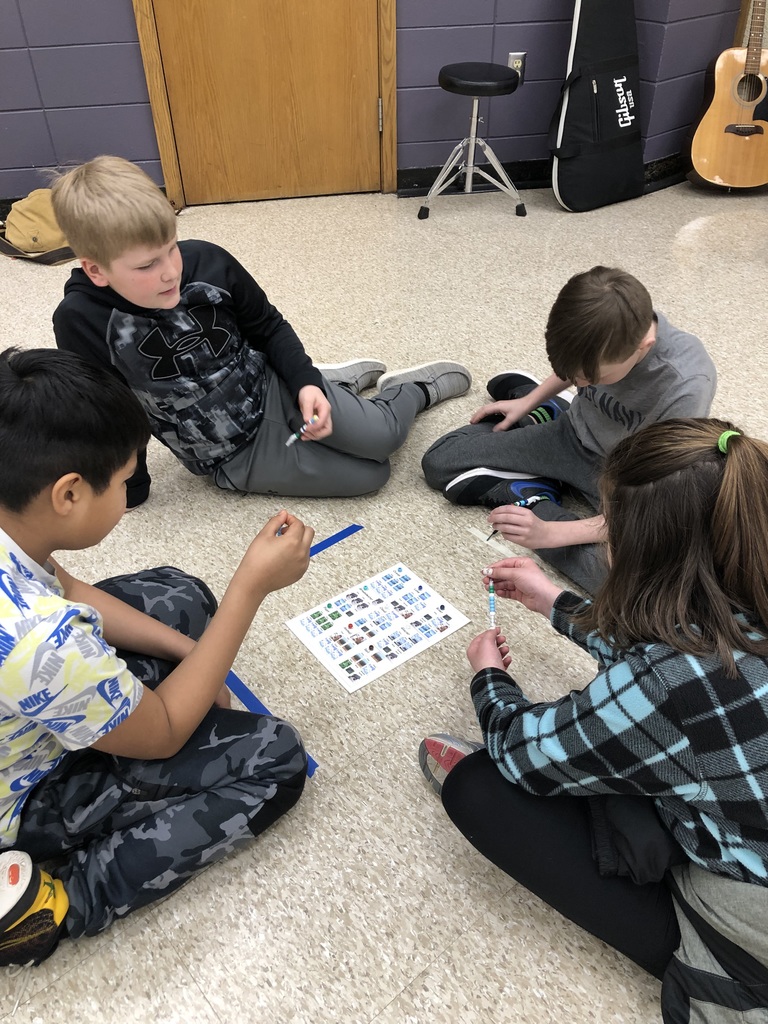 Here are the Seniors solving a puzzle using clues from 20 different Supreme Court cases that we have studied over the last few weeks.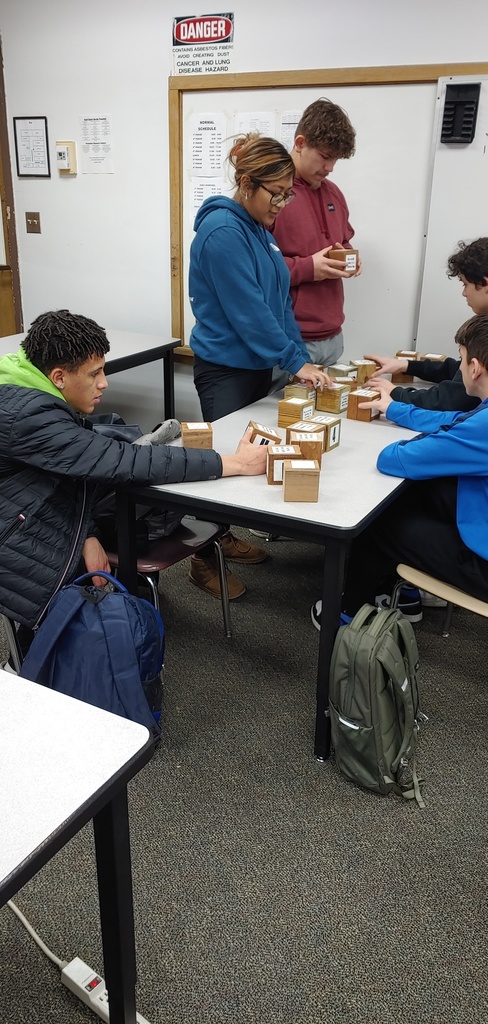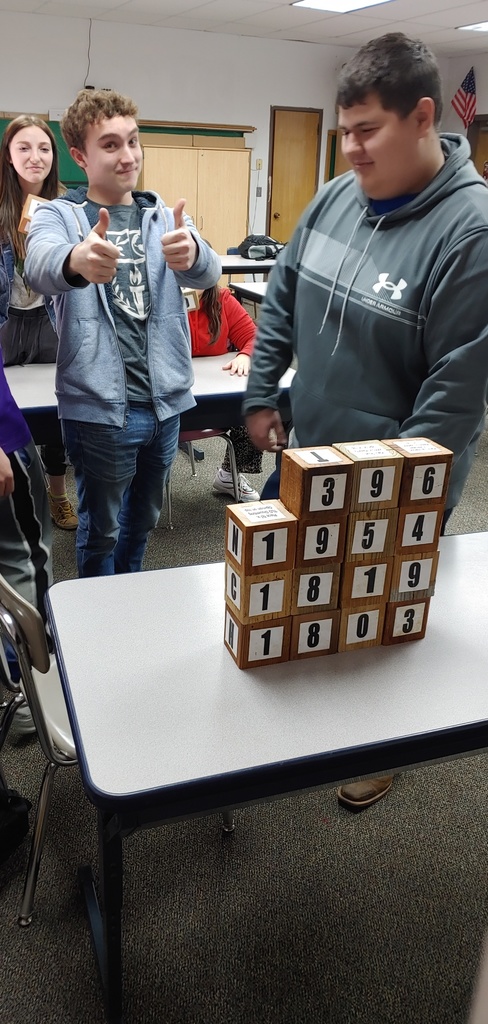 Marion parents and students: In recognition of the boys basketball team playing in the state basketball tournament this week, Marion Schools will dismiss at 1:30 PM on Thursday, March 17. This is to provide students and families enough time to get to Aberdeen for the BearCats game Thursday night. Students will receive lunch prior to the 1:30 dismissal. The student help day scheduled for Friday, March 18 will be rescheduled for Friday, April 8.
This email is for all families of students that were involved in winter Sports (JH BBB, HS BBB, cheer and wrestling) Monday, March 21, will be the winter Sports Banquet in the small gym at Marion at 6:30 pm. This will be a potluck: Seniors and Sophomores and 8th grade bring a salad or dessert Juniors and Freshman and 7th grade bring a main dish **Tableware and drink will be provided. This will be a time to recognize all student athletes that were involved in all winter sports. Coaches will share about the seasons and give out awards. We look forward to seeing everyone!
**Come out and support the FAM Bearcats!! There will be a Community Pep Rally in Sterling Hall on the campus of Freeman Academy on Tuesday, March 15 at 6:30 pm. All from both communities and schools are welcome to join in the fun. Send off for the team! 8:45 Wednesday morning, March 16 - FA Parking Lot The team bus will plan on leaving @9:00. They will be escorted by the Freeman Fire Department down main street on their way to Marion. 9:25am Pep Rally at the Marion school. 10:00am The players and cheerleader bus will be escorted by the Marion Fire Department down main street as they head out to Aberdeen! ***You are welcome to come and follow the team as they head out from Freeman to Marion and get them on their way to STATE B!! GO BEARCATS!!!! See you in Aberdeen!!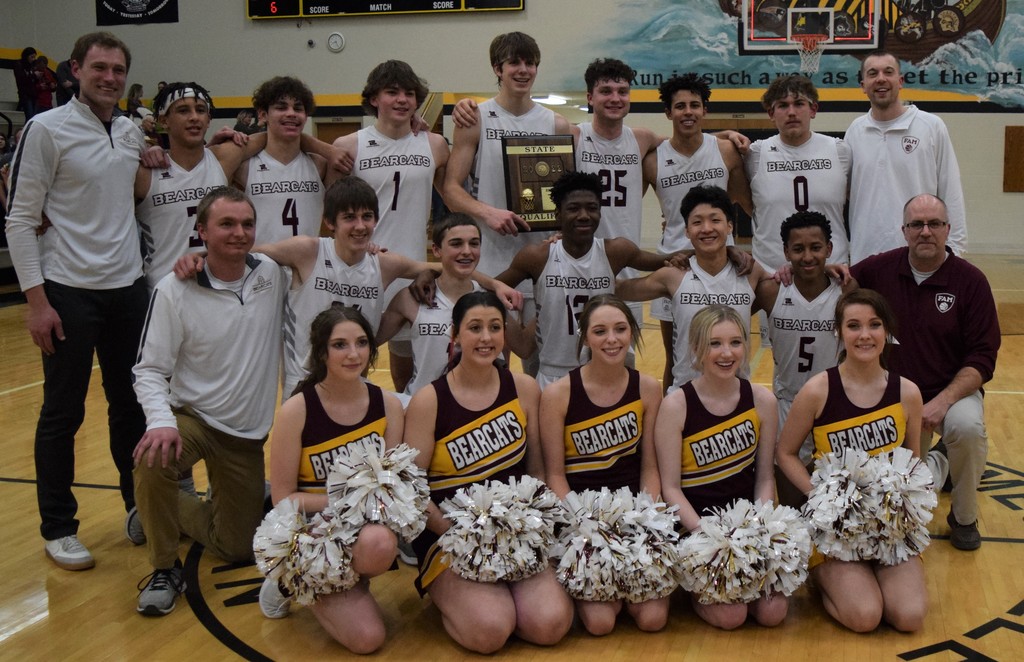 The Marion School will be hosting a pep rally for the Boys Basketball team on Wednesday March 16th at 9:25 am in the New Gym for making it to State Basketball. The public is welcome to come. At 10:00 am there will be a community send off on Broadway Ave. On Tuesday March 15th Freeman Academy will be hosting a community pep rally put on by the Booster Clubs and Cheerleaders starting at 6:30 pm. Lets go BEARCATS!!!
State Bracket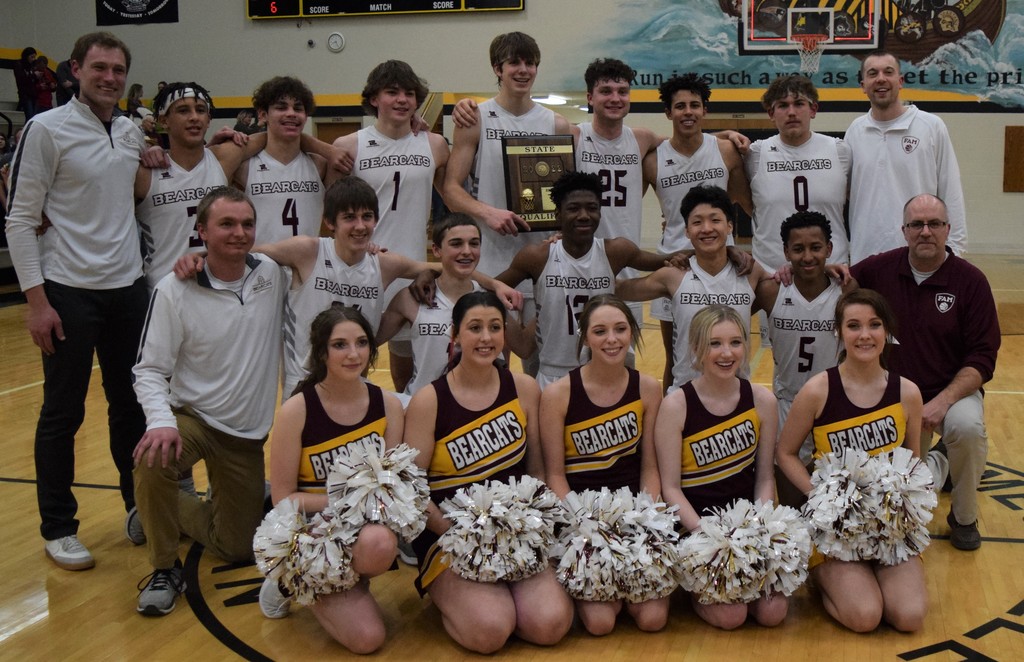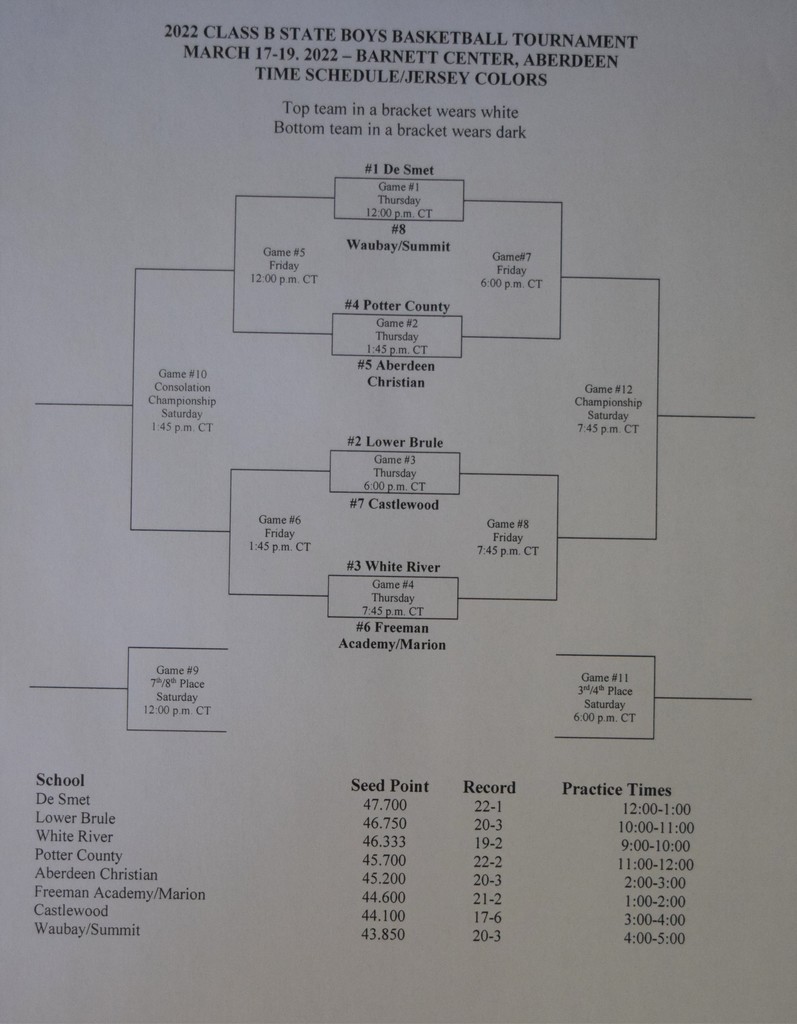 Congratulations FAM Boys Basketball! The Bearcats were victorious over the Timber Lake Panthers in their SoDak Sweet 16 match-up Tuesday night. The Bearcats are headed to the State B Tournament!
Having some fun at the FAM/ Marion Bearcats Basketball Pep Rally! Sending off our Boys Basketball team to SoDak 16! Good luck!!
Our school is located at 1550 Dakota Ave N in Huron (North edge of Huron on Hwy. 37 on the East side of the road) We ask that Freeman Academy/Marion bus, team, and fans enter our school using the South door to our school. Please park your bus in the South parking lot. Please inform all the Freeman Academy/Marion fans to only enter our school using the South door. FA/M fans will also us the restrooms by the South door and sit on the East bleachers. We will have portable bleachers set up on the north end of our court for your student body. Live stream link. I heard this one was a more direct link.
https://portal.stretchinternet.com/hubcityredfield/

Pep Rally to send the Boys Basketball Team off to the SoDak 16. Starts at 3:20pm in the Big Gym.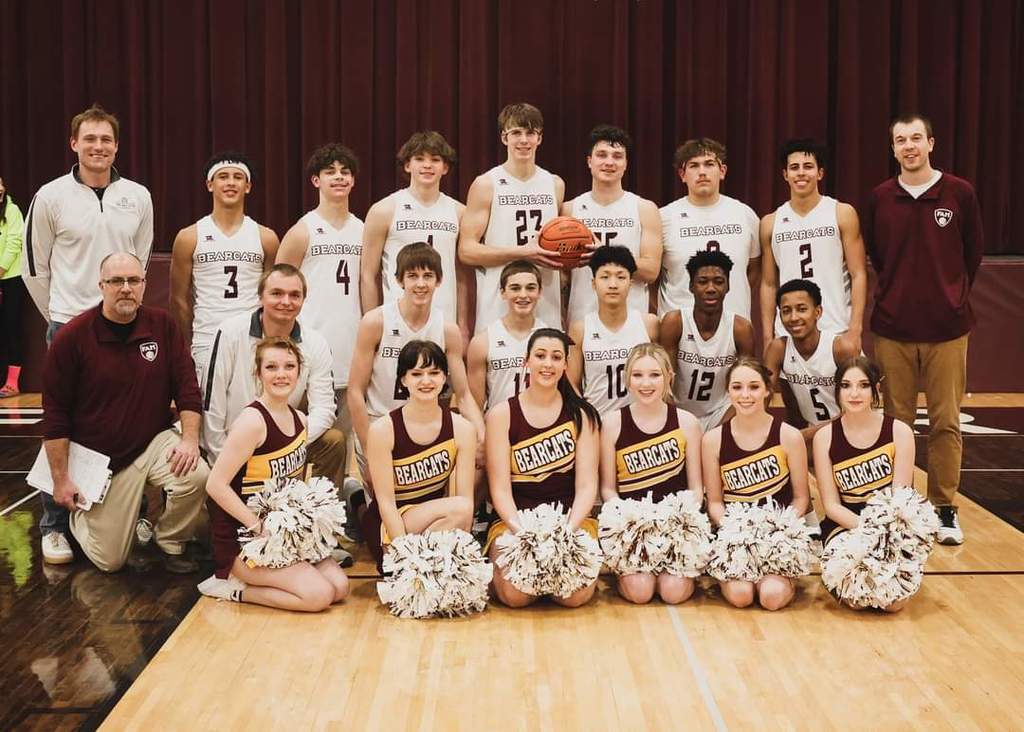 ​Sarah Schanzenbach's English 10 students recently read and studied Elie Wiesel's memoir, "Night." Upon completion of the book, the students put together a Holocaust Remembrance. They also measured out the dimensions of the cattle cars used to transport victims to concentration camps.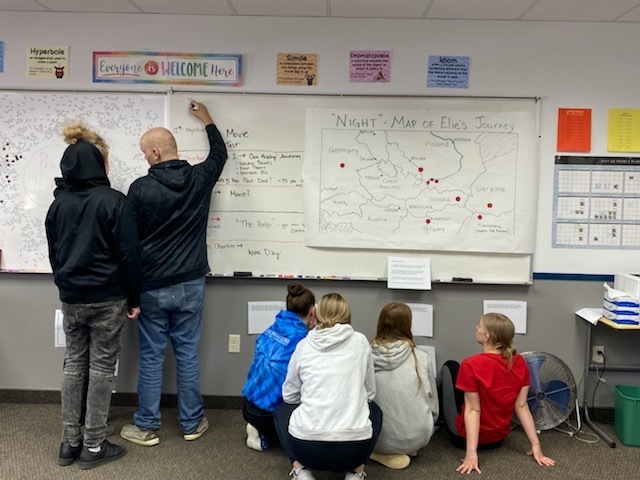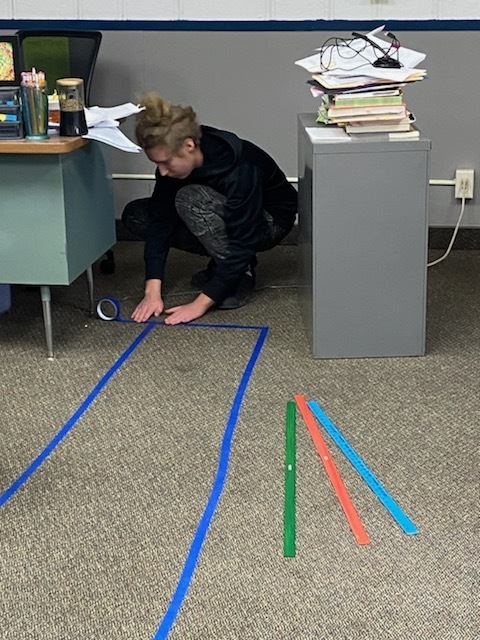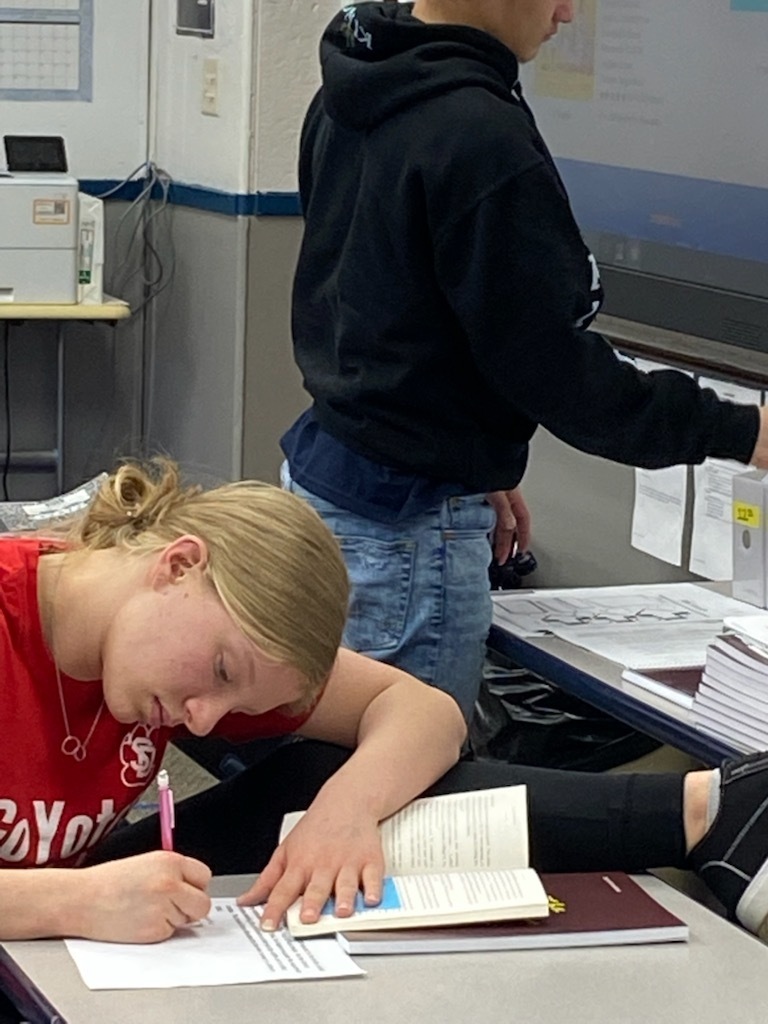 Read Across America week brought lots of guest readers to Rachael Massey's First Grade Classroom. The Marion German Class even had the opportunity to translate and read some children's books to the class!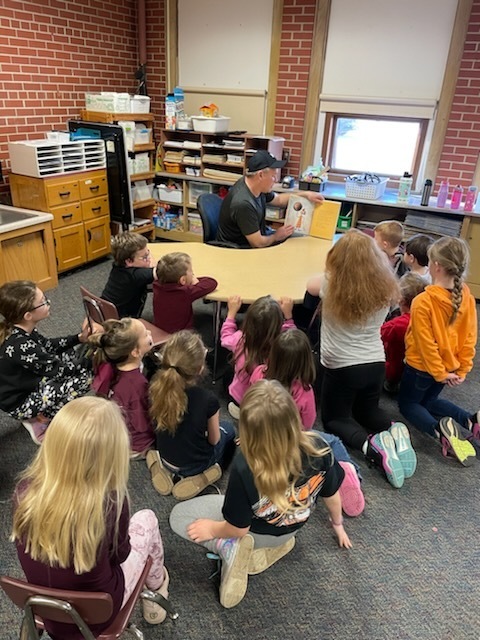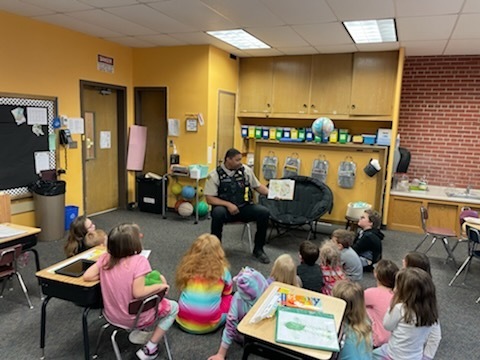 The Marion Third Grade Class and teacher Carson Gross celebrated Read Across America Week with some guest readers!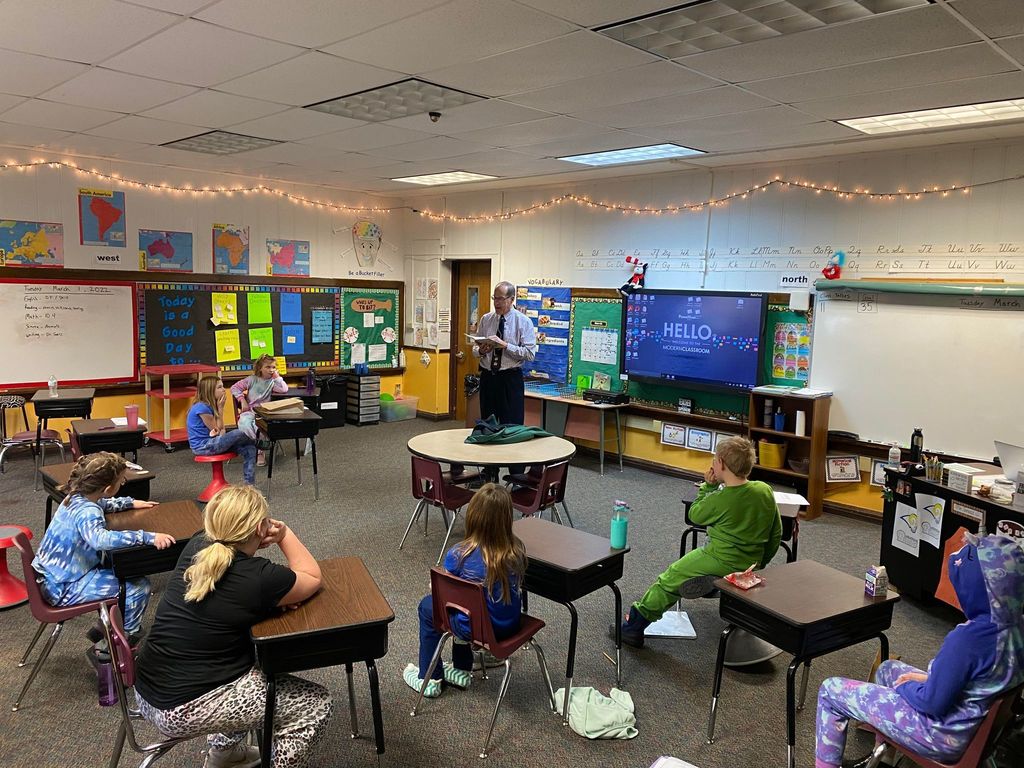 ​Good morning, the school has decided to provide a student spectator bus for tomorrows SoDak 16 Boys Basketball game at Huron. 7th-12th grade students will be allowed to ride the bus. The cost will be $3 per student and a tip box for expenses. The bus will load at 4:15 pm and will return at 10:45 pm. Students are required to be in school on time the next day. All school rules will apply during the trip and game. Mr. Leberman will chaperone. Students will need to pay $4 and adults are $6 to get into the game. Students may bring a sack lunch or money for concessions at the game. The bus will not be stopping. The dress up theme for the game is beach wear. Students need to sign up by 9am on 03/08. Come support the BEARCATS!